Game Details
Collect the fruit and place it in the appropriate basket. Click/tap on the pivot points to control the game.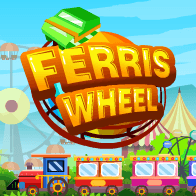 Ferris Wheel
Bubble Shooter is a fun revolving game. Attempt to pop all of the bubbles.
101 Users Played
Basketball Swooshes
Basketball Swooshes is a fun basketball game that you may play online. Choose yo...
93 Users Played
Super Candy Jewels
This candy matching puzzle game is fun to play. Enjoy the candy-filled adventure...
96 Users Played
View More Games