Game Details
Connect the numbers to reach the 2048 tile! To move the tiles, use the arrow keys. When two tiles with the same number come together, they become one!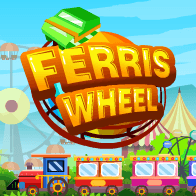 Ferris Wheel
Bubble Shooter is a fun revolving game. Attempt to pop all of the bubbles.
101 Users Played
Basketball Swooshes
Basketball Swooshes is a fun basketball game that you may play online. Choose yo...
93 Users Played
Super Candy Jewels
This candy matching puzzle game is fun to play. Enjoy the candy-filled adventure...
96 Users Played
View More Games